So the awesome news is: there are no news :). After over a month of constant excitement (don't get me wrong, it was all great – just a lot), there was finally almost nothing going on these past two weeks. I say almost nothing, because Adam's uncle Dan was actually in Macon for a visit which was wonderful, but relaxed also and therefore didn't stop me from returning to my kitchen for some cooking& baking. Adam hadn't gotten a birthday cake, so I made a cheesecake (with raspberries, but those came later). And another smaller cheesecake, because there was so much filling left over. We still have some, lol.
Die guten Nachrichten: Es gibt keine Nachrichten :). Nach über einem Monat Dauerprogramm (nicht falsch verstehen, alles was wir gemacht haben war super, es war einfach mal wieder viel), war mal genau fast gar nichts los in den letzten 2 Wochen. Ich sage "fast", da Adams Onkel Dan zu Besuch war, was klasse war, aber auch sehr entspannt. Hat mich nicht davon abgehalten, endlich mal wieder in Ruhe zu kochen und zu backen. Adam hatte z.B. keinen Geburtstagskuchen bekommen, also habe ich einen Cheesecake (mit Himbeeren, aber die kamen später) gemacht. Und dann noch einen, weil ich zuviel Füllung übrig hatte. Wir haben immer noch Reste, lol.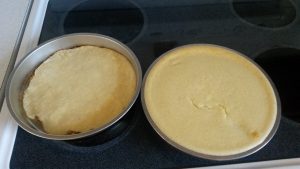 Since today is Super Bowl Sunday, I baked some soft pretzels yesterday and though it was my first attempt, I gotta say they turned out fantastically. I could have eaten 3-4 when they came out of the oven, because the smell reminded me so much of visits to my family down South and going to a bakery in the morning. They were a little time-consuming, but surprisingly easy to make and I can't wait to eat a few more!
Da heute Super Bowl Sonntag ist (und wir somit in größerer Runde Football gucken werden), habe ich gestern Brezeln gebacken und obwohl es das erste Mal überhaupt war, dass ich das versucht habe, sind sie echt gut geworden. Ich hätte locker 3-4 essen können, als sie aus dem Ofen kamen, da mich der Geruch so an Besuche in Süddeutschland und morgendliche BäckerTrips erinnert haben. Es hat zwar eine ganze Weile gedauert, sie zu machen, aber es war recht einfach und ich freu mich schon darauf ein paar mehr zu essen!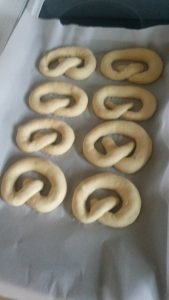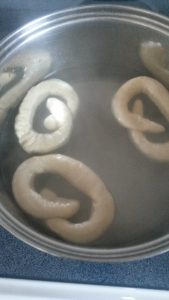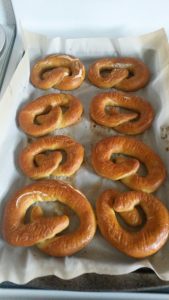 Oh and we had our 2-year anniversary on January 24th, that was very nice :).
Oh und am 24. Januar hatten wir unseren 2. Hochzeitstag, da war sehr nett :).