First of all I have to show you my Mother's Day gift – this was a first and totally unexpected on my part – Owen made me a clay volcano at school :).
Zuerst einmal muss ich euch mein Muttertagsgeschenk zeigen – es war das erste Mal, dass ich eines bekommen habe und somit völlig unerwartet – Owen hat mir einen Ton-Vulkan gemacht :-).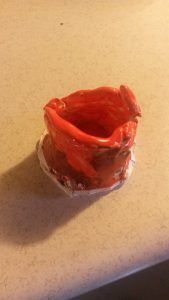 Alyssa got braces last week (which she had been saying that she couldn't wait to get them on and we told her she wouldn't be saying that anymore once she had them – guess who was right?) and managed to get the first bracket knocked off by messing around at school not 24 hours after she got them…
In other news she got an award (for Language Arts) on the second to last day of school.
Alyssa hat letzte Woche ihre feste Zahnspange bekommen (sie sagte seit Längerem sie könne es kaum erwarten und wir haben ihr versichert, dass sie das nicht mehr sagen wird, wenn die Spange mal da ist – ratet mal wer Recht behielt?) und sie hat es geschafft, das erste Bracket beim Herumalbern in der Schule innerhalb von weniger als 24 Stunden abzubrechen…
In weiteren Nachrichten hat sie am vorletzten Schultag einen Preis im Fach "Sprach-Kunst" (=Schreiben) erhalten.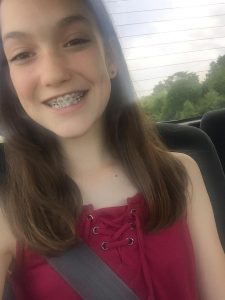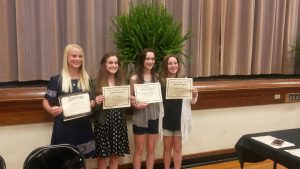 Last weekend Adam and I finally got to go back to Chicago (it had been too long). It was more than 20 degrees cooler there than it was here in MO, which was very nice. On Friday night we met up with a German couple that we met when we did our food tour 1.5 years ago and had a great time with them at a (very loud) German-looking (Adam's impression) pub.
Am vergangenen WE waren Adam und ich endlich mal wieder in Chicago (viel zu lange her). Es war dort mehr als 10 Grad kühler, was sehr angenehm war. Am Freitag Abend haben wir ein deutsches Pärchen wiedergesehen, dass wir vor 1,5 Jahren bei unserer Food Tour getroffen hatten und das war richtig klasse. Wir waren in einem (sehr lauten) deutsch-aussehenden (laut Adam) Pub.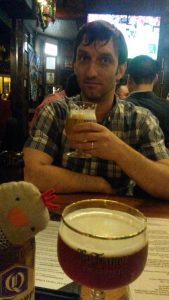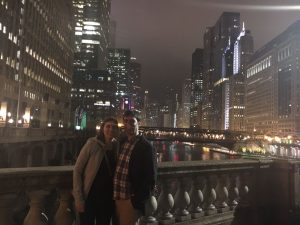 On Saturday we went back to the cultural center (they were doing construction on it last time we were here) because I really needed a picture of exactly how badly they misspelled Shakespeare on their ceiling (in what used to be their public library!).
We then went to the American Writers Museum, which was great (especially loved the typewriters). Then on to the main reason for our trip: to see Hamilton. Adam had really been wanting to see this and loved it – so that was a great success.
Am Samstag waren wir zuerst noch einmal im Kulturzentrum (da waren sie bei unserem letzten Besuch mitten in Bauarbeiten), da ich dringend einen Fotobeweis davon brauchte, wie falsch Shakespeare dort an der Decke geschrieben ist (und das war in der Vergangeheit mal die Stadtbibliothek!).
Dann waren wir im Museum der amerikanischen Schriftsteller, was uns sehr gut gefallen hat (besonders die Schreibmaschinen). Daraufhin kam der Hauptprogrammpunkt dieses Besuches: Das Musical Hamilton, das Adam schon seit einiger Zeit unbedingt sehen wollte. Es hat ihm sehr gut gefallen – voller Erfolg also.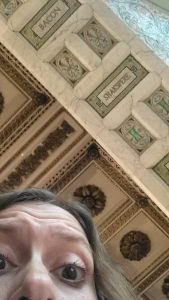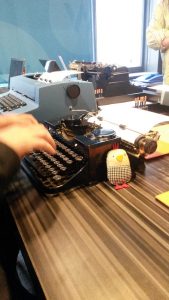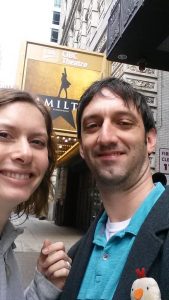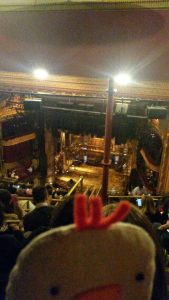 Saturday night and Sunday morning was spent with Markus & Wolfgang who had arrived in Chicago just as we got out of the musical. We enjoyed visiting & some good food with them and are looking forward to them coming to Macon this Friday!
Samstag Abend und Sonntag Morgen haben wir mit Markus & Wolfgang verbracht, die ziemlich genau dann gelandet sind, als wir aus dem Musical kamen. Wir haben es genossen, sie zu sehen und waren zweimal lecker essen mit den beiden. Jetzt freuen wir uns schon auf Freitag, wenn sie nach Macon kommen!