It's been a while since I've posted which mostly had to do with nothing much happening here. We have to go back to working full weeks (after all the holidays), it's been extremely cold and we've been enjoying the fact that we had no plans for a few weekends in a row. We did get hit with two boxes from home at the same time and were super excited about this winter's collection of woolen socks (see second picture) and – in my case – about all the goodies from home that I hadn't had in a while (decent licorice for example).
Es ist ein bisschen her, dass ich gepostet habe, was vor allem daran liegt, dass hier nicht viel los war in den letzten Wochen. Wir arbeiten wieder volle Wochen (nach all den Feiertagen war das ganz schön gemein), es war hier sehr, sehr kalt und wir haben es genossen, dass wir ein paar Wochenenden lang keine Pläne hatten. Höchst erfreulich war auch der Paketregen aus Deutschland (danke, Rübs!) mit der diesjährigen Wollsocken Kollektion und allerlei höchst willkommenen Leckereien aus der Heimat (gute Lakritze z.B.).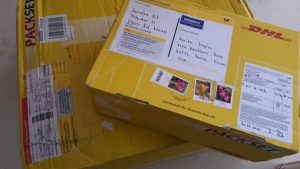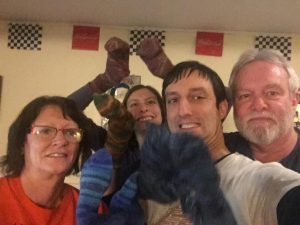 I had to work for part of this weekend, because there was a convention in Columbia that we attend annually for our Events Production Department. We had a van full of stuff from Orscheln Farm & Home that was auctioned off and listened to some horrific Country music – in the case of the picture sang by three ladies that needed to just shut up and disappear (and put on some pants in case of the one on the right). All in all it was a good time, but my ears are still hurting, lol.
Ich musste am Freitagabend und bis gestern Nachmittag arbeiten – dank einer Entertainment-Messe in Columbia, die wir jährlich mit dem Produktionsteam für Veranstaltungen besuchen. Wir hatten einen Minibus voll mit Produkten unserer Ladenkette, die bei einer Auktion versteigert wurden und mussten am Freitag ganz furchtbarer Country-Musik zuhören – im Falle des Bildes unten gesungen von drei Grazien, die besser mal den Mund gehalten und verschwinden hätten sollen (die ganz rechts brauchte außerdem dringend eine Hose). Insgesamt war es nett, aber meine Ohren tun immer noch weh, lol.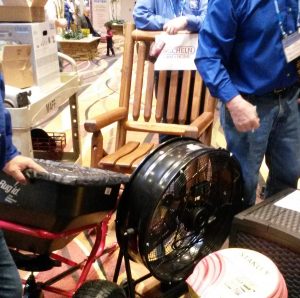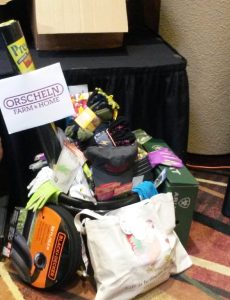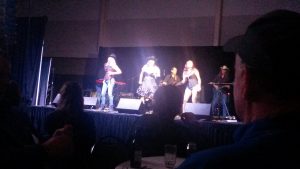 Adam and I have some plans coming up – Kansas City two weekends in a row for example – so stay tuned for more.
Adam und ich sind demnächst an 2 Wochenenden hintereinander in Kansas City, da werde ich mehr zu berichten haben!