Did I mention that we also decorated our Christmas tree on my birthday :)? I was actually glad they hadn't gotten around to it before because I wanted to be part of it – it's really only the 3rd tree I've ever had after all (and only the second I got to decorate).
Adam and I had wrapped all Christmas presents Sunday night so the kids came back to lots of gifts waiting under the tree and commenced counting how many each would get promptly. Monday and Tuesday were spent taking them to the store so they could pick out gifts for one another and Adam and myself (without the person being there of course).
Monday was also my first entire day with them by myself (meaning about 10 hours) and it was a great fun day. We played most of the day and had a really good time.
Hatte ich erwähnt dass wir an meinem Geburtstag auch noch den Weihnachtsbaum geschmückt haben? Ich war froh, dass Adam und die Kinder das vorher nicht gemacht hatten, weil ich gerne mithelfen wollte – schließlich hatte ich erst zwei Male vorher einen Weihnachtsbaum, den ich selbst dekoriert habe.
Adam und ich hatten sonntags alle Geschenke verpackt so dass die Kinder Montag früh als erstes zählen konnten, wer wie viele bekommt. Am Montag und Dienstag gab es diverse Trips zu Wal-Mart um Geschenke der Kinder füreinander, für Adam und für mich (jeweils ohne die zu beschenkende Person) auszusuchen. Montag war außerdem mein erster ganzer Tag mit den Kindern (soll heißen ca. 10 Stunden) und es war ein wirklich guter Tag. Wir haben viel gespielt und hatten Spaß.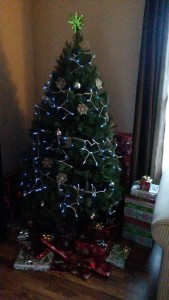 Monday night was football night though not one to remember. Actually the only thing I'll remember it for is the night I got sick on AGAIN. So here's more bad news: I've been sick all week and really sick this time. Fever, sinus headaches, chills and my body aching at all times. Needless to say it has not been a good week. We had Christmas with the kids on Christmas Eve (morning) and had Adams parents and his grandma over on Christmas day for dinner and cards. But preparing a meal without tasting anything and not being able to eat much of it myself was no fun. We also painted our room on Christmas day and I moved on to painting windows, door frames and floor trim yesterday when really all I want to do is curl up on the couch until I feel normal again. Here are some impressions nonetheless:
Montag Abend wars Zeit für Football, auch wenn das Spiel nicht so ausging wie erhofft. Das Einzige an das ich mich erinnern werde, ist dass ich wieder krank wurde. Mehr schlechte Nachrichten also: Ich war die ganze Woche krank und zwar richtig. Fieber, Kopfweh dank verstopften Nebenhöhlen, Schüttelfrost und Gliederschmerzen ohne Ende.
Es war keine besonders gute Woche.. Natürlich haben wir trotzdem mit den Kindern Weihnachten gefeiert an Heiligabend und Adams Eltern und Oma waren am 1. Weihnachtstag zum Abendessen und Karten spielen hier. Aber Kochen ohne etwas zu schmecken und dann nicht wirklich essen können macht wenig Spaß. Wir haben außerdem unser Schlafzimmer gestrichen und ich habe gestern alle Fenster- und Türrahmen sowie Bodenleisten getrichen; auch wenn ich mich viel lieber einfach nur hinlegen und ausruhen möchte bis ich mich wieder einigermaßen normal fühle. Hier sind nichtsdestotrotz einige Eindrücke: